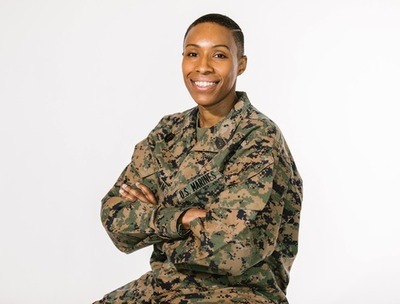 Transitioning from an active duty service member or veteran to student means you're likely eligible for tuition discounts from the GI Bill and Yellow Ribbon Program. But how do you take the necessary steps to take advantage of these opportunities?
Thankfully, choosing the right university makes using your military educational benefits a breeze.
Pace University offers a number of both undergraduate and graduate online programs suited for active-duty service members and veterans, and Pace advisors have plenty of experience helping military students navigate their various educational benefits with ease.
What Makes Pace a Great School for Service Members and Veterans?
The faculty and staff at Pace can walk you through every step of your experience, from helping you complete your application to navigating tuition. Our Military Benefits page gives a comprehensive look at the benefits available to you as a military student.
Pace is located in New York City, a central hub for several industries including technology, business, finance, and homeland security.
Pace offers several fully online degree options, allowing you to attend school from any location and earn a degree while still employed.
Pace programs are often customizable with different tracks or concentration options.
Many of our programs can be completed in as little as one year, and several have multiple start dates throughout the year.
Some Pace programs accept prior work, life, or educational experience for college credit.
Bachelor's Degree Programs
Online Bachelor of Business Administration in Business Studies

An online BBA in Business studies gives you the foundational knowledge to enter an established business or develop the entrepreneurial skills to start your own. Pace has a fantastic global network of business alumni, and Business Studies faculty have connections with top marketing firms. Pace students can choose from two concentration options: Finance or Marketing and Management.
Online Bachelor of Science in Professional Technology Studies

Learn the hardware, software, and decision-making strategies needed to support various business operations, such as accounting, auditing, management, and marketing. The Pace curriculum was developed in accordance with cybersecurity standards from the Department of Homeland Security and National Security Agency. Students at Pace have a choice of two concentrations—Business Technology Leadership or Computer Forensics—as well as research and internship opportunities.
Master's Degree Programs
Online Master of Arts in Homeland Security

An online MA in Homeland Security prepares you for a civilian career managing disaster relief and terrorism with courses in areas like public sector management, disaster preparedness, and constitutional law and ethics. Alternatively, you can advance to a leadership position within the military or transition to a different department. Pace's location in New York City places it in one of the industry's major hubs, and the program's faculty are experienced military and criminal justice professionals. Students can choose the Cyber track, Emergency Management track, or customize their own Open track.
Online Master of Public Administration

Many service members choose to get an MPA to continue serving the public. While military experience develops leadership, organizational, and problem-solving skills, an online MPA program teaches you research design and data analysis, allowing you to make effective, meaningful decisions that impact communities. Pace offers three track options: Nonprofit Management, Healthcare Administration, and Government Management (with an optional short-term study abroad course in Oxford, England).
Online Master of Business Administration

MBAs are one of the most widely-applicable graduate programs, giving you advanced business acumen that serves well in a number of industries, government offices, and entrepreneurial endeavors. The hands-on coursework teaches students how to effectively communicate and manage business operations in a new era. The Pace online MBA program is open to students with or without a business background, and all who attend can benefit from Pace's NYC location and connections with local and international business organizations. Pace students can pursue a concentration in Business and choose from an array of electives to round their program of study, or they can pursue a Corporate Finance or Marketing Management concentration.
Online Master of Science in Information Technology

IT combines technological knowledge with a practical understanding of organizational needs to best support an organization's technological infrastructure. In this online program, you can learn to establish and maintain security protocols, manage databases, develop web applications, program with Python, and build robust IT infrastructure. Pace's MS in Information Technology offers concentrations in
Online Master of Science in Computer Science

An online MS in Computer Science teaches the algorithms and computing theory behind all hardware and software applications. Students in the Pace program can choose from two pre-planned focus areas—Artificial Intelligence or Application Development—or create an individualized focus with their advisor. In addition, the Seidenberg Portable Lab provides virtual access to a suite of software development tools and enterprise servers. Students without technical experience can take a prerequisite course in Java programming to prepare them for the program.
Online Master of Science in Data Science

Prepare to enter a lucrative and high-demand industry. Data science is the field of collecting, analyzing, and visualizing data in order to derive meaningful information or create actionable goals. In the Pace online MS in Data Science program, you'll learn advanced quantitative methods and data governance best practices. You'll also study how advancing technologies like automation and machine learning can play a role in data science. Pace students can tailor their studies to their specific interests with the option to choose electives outside of the computer science field.
Online Master of Science in Software Development and Engineering

An online MS in Software Development and Engineering blends theoretical, practical, and professional knowledge to prepare you for a long-lasting career. In this program, you'll cover the entirety of the software life cycle, learn how to develop secure software systems, and learn how to manage team software. Pace's project-based coursework prepares you for the collaborative and communication-centered nature of the industry. Furthermore, the Seidenberg School is the only institution in the eastern United States that is officially qualified by the Institute of Electrical and Electronics Engineers to prepare students for the Associate Software Developer and the Professional Software Developer certifications.
Online Master of Science in Cybersecurity

The cybersecurity industry is vitally in need of professionals with a comprehensive understanding of cyber crime and defense. An online MS in Cybersecurity prepares you to solve ever-emerging problems as technology evolves and cybercriminals shift strategies. The Pace program offers a general track and two concentrations, Cyber Operations and Cybersecurity Leadership, and Pace is a National Center of Academic Excellence in Cyber Defense Education (CAE-CDE) as designated by the National Security Agency (NSA).
The Right Degree Program for You
These are just some of our top offerings for service members and veterans, and there are many other options if your interests lie outside of these degree fields. To find the best program for you, or to help you choose between various programs in the list above, use Pace's Program Finder. If you want more direct assistance, fill out the Request Information form below or get directly in touch with an admission advisor:
Get Started
Request
Information
To learn more about online Master of Science in Software Development and Engineering, fill out the fields in this form to download a free brochure. If you have any questions at any time, please contact an admission advisor at (866) 843-7205.