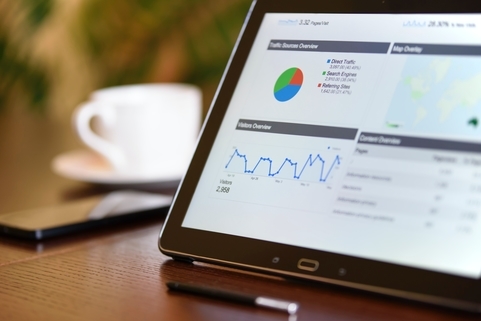 As companies continue to invest in big data, it's no surprise that careers in data science are on the rise. From 2019 to 2020, the number of job listings in the field grew 37%, and, in 2020, 67% of companies noted they were building out their data science teams. With this massive growth, there is also a shortage of experts to fill these roles across industries, making now an opportune time to get into or advance in the profession.
We've seen the great things that machine learning and big data can bring us. Google, Oceana, and SkyTruth created Global Fishing Watch to monitor fishing and identify illegal activity. John Deere is working on artificial intelligence to help farmers determine the quality of their grains and make necessary tweaks. BMW Group is on a quest to create a functional, self-driving car. There are few, if any, industries that have not been have been affected by growing investment in data science.
But we're also aware of what can happen when organizations don't have the experts who can help them navigate their data without running into analytics-driven mishaps. Think: Amazon filtering out female applicants for technical roles, the UK losing tens of thousands of coronavirus case reports due to Excel limitations, and, less dramatically, a soccer game broadcast following a bald head instead of the ball. These mistakes can happen for a variety of reasons, including issues with how computer models are trained and selecting the wrong tools for the task at hand.
A master's in data science can provide you with practical experience using the software you need to successfully navigate the field, as well as the expertise to avoid common errors.
---
Quick Comparison: Data Analyst vs. Data Engineer vs. Data Scientist
| Data Analyst | Data Engineer | Data Scientist |
| --- | --- | --- |
| Analyzes and presents on a variety of data to identify current trends and new opportunities. Data analysts are often proficient in basic statistics, as well as in leveraging business intelligence tools. | Collects, manages and prepares data for further analysis. They may also guide technology decisions to ensure that their organizations have the hardware and software to support its goals for using data. | In addition to drawing insights from complex data sets, they develop and optimize machine learning algorithms for use in advanced analytics and to power other software. |
Master's in Data Science Careers
The master's in data science job outlook projects exceptional growth across the profession. According to the U.S. Bureau of Labor Statistics, employment is expected to increase 31% from 2019-2029, making it among the fastest growing occupations (4% is the national average). And the master's in data science salary is another enticing aspect, with numerous positions paying over $100k.
There are many exciting careers in the field of data science. We've included some of the most popular options below, along with the average salary you can expect for each. Within most of these career paths, you also have the option to pursue a management track, so it's important to consider whether you want a position working hands-on with data, or one where you will be in a leadership role heading up a team.
Data Analyst
Data analysts evaluate, analyze, and report on data to improve an organization's processes and help inform strategy. They are adept at looking through countless volumes of operations, customer, and other organizational data, using statistics to identify key trends, and then presenting actionable insights to executives and other stakeholders. In other words, they're often the ones who inform the question, "What should our organization do next?" Data analysts are expected to be experts at handling technical responsibilities, like managing databases and implementing quality assurance processes, as well as excellent communicators.
A master's degree is not always a requirement for data analyst positions, but is often listed as a preferred qualification. Additionally, along with experience, a graduate degree can help you secure a role as a senior data analyst.
Required skills include: Data analysis, SQL, and Tableau
Median annual salary: $74,336 ($80,000 with master's)
Data Engineer
A data engineer, also referred to as a big data engineer, turns raw data into usable information for companies to drive decisions. To do this, data engineers work with ETL (extract, transform, load) pipelines: extracting the data from the various sources a company has using Application Programming Interfaces (APIs), transforming it by removing inconsistencies, and loading it into a repository where it can be used by other stakeholders and analytics applications.
The work that data engineers do is an essential part of growing and scaling an analytics function. Once the data has been transformed and made available, members of the organization can then access that information to build their own analytics applications or use the data with business intelligence (BI) tools. BI software typically takes data that has been prepared by a data engineer for analysis, and allows users to present it in a visual and easy to use format.
Data engineers are also required to monitor and refine how the organization collects and sources data. They have to ensure that the data pipelines are functioning properly, as well as create new pipelines when needed.
Experience and a master's degree can help you progress in your career and become a senior data engineer.
Required skills include: Python, SQL, and big data
Median annual salary: $111,845
Data Scientist
Data scientist was named the second best job in America in 2021. This position is typically a senior role, compared to data and business analysts. Data scientists are responsible for creating the algorithms, processes, and support infrastructure that shape how organizations analyze data.
They are often responsible for writing and using machine learning algorithms and predictive models to assist with business decisions. Data scientists are expected to be well-rounded, skilled in statistics, software engineering, advanced programming, domain or business knowledge, and communication.
According to one recent analysis, data scientists come from a wide variety of academic backgrounds, including computer science, business/economics, and math/stats, and from many different previous roles, like data analyst, software engineer, or in academia. One commonality, according to the study, is the highest degree held—75% of data scientists have a master's or PhD. The Pace University online MS in Data Science provides students with exposure to key tools and programming languages they'll need to know in the role, including Python, R, Spark, Hadoop, MapReduce, Matlab, and Weka.
Data scientists can move into a senior data scientist or lead data scientist position with several years of experience.
Required skills include: Statistics, Python, and machine learning
Median annual salary: $113,616 ($116,300 with master's)
Machine Learning (ML) Engineer
Also known as an artificial intelligence (AI) engineer or specialist, a machine learning engineer creates, tests, and deploys machine learning models for a broad range of purposes. In this role, it's important to have proficiency across both software engineering and data science.
Machine learning engineers build the software powering some of the most advanced analytics-driven applications in the world. Some examples of machine learning in practice include Netflix's personalized show and movie recommendations, Yelp's photo categorization, facial recognition software, and self-driving vehicles.
This role is also expected to quickly grow with more companies using AI and ML. According to Brandon Purcell, senior analyst at Forrester Research, "One-hundred percent of any company's future success depends on adopting machine learning. For companies to be successful in the age of the customer, they need to anticipate what customers want, and machine learning is absolutely essential for that."
The Pace University online Master of Science in Data Science includes coursework in key areas needed to succeed as a machine learning engineer, including: artificial intelligence, machine learning, deep learning techniques, deep neural networks, and natural language processing.
Required skills include: Machine learning, deep learning, natural language processing (NLP)
Median annual salary: $112,793
Quantitative Analyst
A quantitative analyst is another position known by various names, including financial quantitative analyst, quantitative model analyst, and, simply, "quant." As the name suggests, these individuals build models to analyze financial and other heavily quantitative data. They often work in the financial sector, helping companies with investments and risk management, or developing algorithms that help guide investment decisions.
An advanced degree can help you move into the role of senior quantitative analyst.
Required skills include: Python, risk management, and SQL
Median annual salary: $100,434 ($108,000 with master's)
*Salary information and skills listed for the above positions were compiled from Burning Glass and PayScale.
---
Where to Find Data Science Jobs?
Data science jobs are in high demand across the country. In particular, the top five states with the most job listings for the roles detailed above include:
California
Texas
New York
Virginia
Illinois
Jobs are available across many industries, including food and beverage, health care, higher education, information technology, investment management, and more.
Finding a job doesn't necessarily mean you have to live in one of these locations. Many companies offer the option of working remotely, and there are job openings in all 50 states.
---
About the Online MS in Data Science at Pace University
The Pace University online Master of Science in Data Science was designed to help students take advantage of professional opportunities in the next generation of quantitative solutions. Our STEM-designated curriculum leverages the Seidenberg School's decades of experience in online education to explore theoretical and practical approaches to data governance, machine learning, predictive analytics, and more. This flexible, 100% online program fits a combination of hands-on experience and asynchronous activities into your schedule, building the expertise you need to guide the future of data-driven organizations.
Get Started
Request
Information
To learn more about online Master of Science in Data Science, fill out the fields in this form to download a free brochure. If you have any questions at any time, please contact an admission advisor at (866) 843-7205.