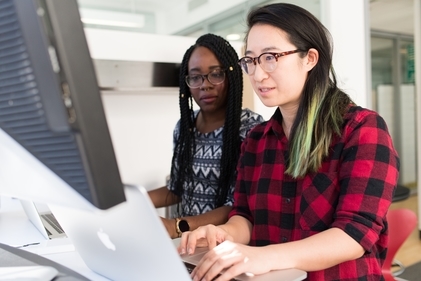 Have you ever thought about how you could change the world? On a Monday? Before lunch?
That's what Tom Kilburn did at 11 a.m. on June 21, 1948, when he ran the first successful piece of software from electronic memory in a stored-program computer nicknamed "Baby." Since then, software has revolutionized almost every area of our lives, whether we're ordering from a delivery app, communicating with coworkers through video conferencing tools, gaming with opponents on the other side of the world, scheduling a doctor's appointment, or paying bills with a single click.
As a result, software engineers can pursue a wide range of roles where their talents make a difference. Experts in software development contribute to analytical tools for scientists studying cancer treatment as well as the architecture for sensors that allow autonomous vehicles to operate safely.
Whether you already work in software engineering and development or are interested in starting, there are tremendous opportunities for professional growth. Advanced education can help you achieve your objectives in this rapidly growing field, so let's explore some possible master's in software engineering career paths.
---
What is the Master's in Software Engineering Job Outlook?
The US Bureau of Labor Statistics reports a high demand for technical professionals who specialize in software. In 2020, more than 1.8 million people were employed as software developers, quality assurance analysts, and testers in the US. The BLS projected 22 percent growth in these roles through 2030, much faster than the average rate of 8 percent for all occupations. Some of the key drivers for hiring include innovations in consumer electronics, organizations investing in smartphone apps, and the need to update healthcare processes and systems.
Meanwhile, advanced education has become an increasingly crucial factor for professionals across many industries. A 2021 CareerBuilder survey found broad rises in educational requirements over the previous five years, with 41 percent of employers now looking for applicants who hold a bachelor's degree for jobs that once went to workers with just a high school diploma. In addition, 33 percent of employers prefer job applicants with a master's degree for positions that previously only called for a bachelor's degree.
A graduate degree in software engineering and development signals a variety of strengths to potential employers, including:
Current technical knowledge
Sophisticated problem-solving capabilities
Ability to communicate clearly and credibly about complex issues
An expansive skill set that encompasses all phases of the development lifecycle
With an increasing demand for knowledgeable software engineers, a master's degree can be a catalyst for career growth, especially when combined with the following strategies for advancement:
Seek experience rather than time
A year in a position with plenty of hands-on experience is more valuable than two years in a stagnant environment. Employers want teams of people who learn from their mistakes and adapt to emerging challenges.
Show proof of exceptional performance
Performance records and a robust developer portfolio are ways to show off your skills and versatility. Being able to prove to employers that you consistently deliver quality results on schedule is a major asset.
Take on additional responsibilities
The software engineering world is always advancing, so it's vital to familiarize yourself with the latest tools and methods. Employees who are willing to take on new tasks and learn on the job show their dedication to the field.
Master's in Software Engineering Salary
Source: Burning Glass
---
Master's in Software Engineering Careers
Software Engineer or Developer
In March 2021, many San Diego residents struggled to find appointments to receive COVID-19 vaccinations, often spending hours refreshing websites in search of an open slot. A San Diego software engineer named Andre Le developed a Twitter bot in his free time to help people book appointments as they became available.
"Technology won't solve everything," he said. "But where it can, I think it can make a big difference."
As Le's story demonstrates, software engineers and developers have unique opportunities to use their technical knowledge to make an impact. Professionals in these roles design, develop, and install software solutions for an endless array of applications. Working in the field of software engineering requires deep understanding of how to harness programming languages like Python, JavaScript, SQL, and Microsoft C# to meet the specific requirements of these varied projects.
To succeed as team members, software engineers should also be effective communicators who clearly explain their strategies for addressing complicated technical issues. Software development leaders may even be tasked to plan and oversee the entire process of creating a new piece of software. By building their skills in research and analysis, engineers can promote effective collaboration, improve operations, and anticipate changing organizational needs.
Experts in software engineering work in almost every industry, but major corporations typically rely on sprawling teams of developers to keep operations running efficiently. According to data gathered from Burning Glass, Amazon alone hired over 9,000 software engineers in 2019.
Computer and Information Systems Manager
The top employers for computer and information systems managers include the technology, manufacturing, and finance and insurance industries. These positions may entail different responsibilities, from data storage to security policy, depending on an organization's structure and needs. However, all managers should be capable leaders who collaborate closely with other tech professionals to monitor a range of IT activities, set goals for the future, and keep their teams on track toward those objectives.
Computer and information systems managers ensure that computer systems and software are up-to-date, meeting all functionality and security requirements. They organize complex projects by balancing technical demands with considerations like the schedules of workers and departmental budgets. Managers help their organizations function and grow by communicating efficiently with teams of IT professionals who may have a variety of backgrounds and areas of expertise.
Database Administrator
Since big data has become essential for purposes from financial strategy to customer service, the work of managing and storing all that information has grown in both complexity and importance. Database administrators work in banks, government agencies, and universities among many other organizations. They maintain and oversee databases that may contain user accounts, library catalogs, client records, and demographic information.
Keeping all that information accessible to the stakeholders who rely upon analytical insights but also safe from intruders takes sophisticated methods and tools. Administrators keep databases functioning efficiently and security plans up to date, using multiple programming languages like SQL and database management software like Oracle.
Administrators may create software to derive data, implement backup solutions to prevent data loss, and provide secure access to databases. These professionals must also be capable of working with others to plan for the shifting needs of a growing organization and troubleshoot problems as they arise.
Video Game Designer
Video game designers marry creativity with technology to create products that are not only fun, but visually and emotionally engaging. Design roles may focus on game mechanics, such as combat or solving problems, or crafting the environments that players interact with. Lead designers originate the broad concepts that give a game identity and then manage the teams of other designers and developers that bring those ideas to life.
Game development is often a massive undertaking that takes highly trained professionals across multiple disciplines years to bring to fruition. To make it through this process, designers combine inventive thinking with the technical understanding to overcome performance issues and the organizational ability to keep a team moving forward despite adversity.
These professionals should cultivate a thorough understanding of scripting languages and graphics programs. In fact, game designers often have an extensive toolbox of skills that can be applied beyond the entertainment arena. For example, John Carmack, known for his work as lead programmer on games like Quake and Doom, volunteered to work with Tesla engineers to improve the interface performance of the company's older vehicles.
Web Developer
While a web designer writes the code for pages, a web developer focuses on establishing the overall structure of a site and optimizing the visitor's experience. Web developers may specialize in a few ways:
A back-end developer uses complex software to build the infrastructure and support systems that allow a website to function reliably and securely.
Front-end developers build aspects of a website that visitors directly see and interact with, striving for the best possible appearance, accessibility, and performance.
A full-stack web developer is a versatile expert who can handle both the front- and back-end development processes.
All developers must be both creative and detail-oriented since overlooking a subtle problem can crash an entire site or create a vulnerability. They can take on a wider range of projects by expanding their knowledge of commonly used programming languages like Java and SQL as well as areas like usability testing and quality assurance.
Cybersecurity Manager
Ransomware costs businesses more than $75 billion annually, making cybersecurity managers highly sought by most industries. On May 7, 2021, Colonial Pipeline suffered one of highest profile ransomware attacks in history. News broke just a few days later that the company had been searching for a cybersecurity manager for more than 30 days before the incident.
It's impossible to say if the ransomware attack on Colonial Pipeline could have been avoided had the position been filled. But it's unquestionably true that organizations in every industry can benefit from improving their cybersecurity efforts.
Cybersecurity managers monitor a company's information network for intrusions, mitigate risks, and adopt policies to prevent future threats. These professionals must be excellent problem solvers who harness the most advanced tools and strategies to act decisively against the dangers presented by malware and social engineering tactics. Cybersecurity leaders keep pace with constantly evolving threats through overseeing routine system upkeep and training stakeholders.
Chief Technology Officer
A chief technology officer (CTO) is a top executive position responsible for overseeing a technical staff that includes many of the positions previously mentioned, like software engineers and information systems managers. CTOs organize a company's overall technical strategy while advising fellow executives on how technology can be leveraged to simplify processes and boost efficiency within their departments. According to a Burning Glass analysis of job postings, Chief Technology Officer positions will grow by a projected 10.9 percent over the next 10 years, with the greatest demand in the tech, finance and insurance, and manufacturing industries.
Working toward a CTO position requires both technical knowhow and extensive administrative experience, including an exceptional understanding of business decision making, budgeting, project management, and staff management. Leaders at the executive level must be persuasive communicators who engage in productive collaborations to further their organization's goals.
The steadily increasing need for software engineering professionals at all levels within businesses makes now an excellent time to explore the opportunities for careers in this field. By solving complex challenges and developing innovative products, experts in software transform business operations, enable scientific discoveries, and promote better healthcare outcomes. A graduate degree can help you build the knowledge and skills to reach your professional goals…and you may even get the chance to change the world before lunch.
---
About the Online MS in Software Development and Engineering at Pace University
In the online MS in Software Development and Engineering program from Pace University, you can develop the theoretical knowledge and hands-on skills you need to excel in a global marketplace. Our STEM-designated curriculum focuses on three core themes:
System and software design
Software management and evolution
Team resources management
MS in Software Development and Engineering students include recent graduates from technical programs interested in deepening their knowledge of the field, working professionals ready for a career change, and experienced software developers seeking to update their skills and advance their careers. You can complete this 100 percent online program on a full- or part-time schedule and choose from 10 electives.
Pace also offers two certificate options either as part of the master's program or as stand-alone programs:
Get Started
Request
Information
To learn more about online Master of Science in Software Development and Engineering, fill out the fields in this form to download a free brochure. If you have any questions at any time, please contact an admission advisor at (866) 843-7205.