Pace University's Commitment to Quality
The development and enhancement of computer technology and the Internet enable Pace University to expand the meaning of its motto "Opportunitas" by delivering high-quality online education to students who desire or require the flexibility of distance learning. The University Provost shapes and implements Pace's educational philosophy and policies, and is committed to providing the same quality educational experience for all Pace students, whether they study online or onsite.
As part of this commitment, Pace Online provides comprehensive services that include:
Support for students taking online courses
A week-long certification workshop for instructors
Ongoing workshops and events for faculty teaching online courses
Top 30
Nationally ranked university for "Best Online Bachelor's Program"
U.S. News & World Report
Top 9%
of private US colleges that provide the best return on tuition investment
PayScale
Excellence in Online Learning
Pace Online programs enthusiastically embrace the University's commitment to online learning excellence. Our faculty undergo in-depth training to become expert online instructors. Faculty are certified in online education through the University's Faculty Center for Innovative Learning and Professional Development and work with the Faculty Center staff to provide substantive, quality online coursework.
Best-In-Class Student Support
Our dedicated advisement staff are experts at helping to ensure students feel comfortable in the online learning environment and supported in their efforts to complete their undergraduate degree. Each online student receives a personal advisor who will be a partner to them throughout their time at Pace.
Our advisement team helps students get registered each semester and are available to provide any additional assistance students may need, whether it be to hone their time management skills or to determine the best courses to take at any particular time.
Pace University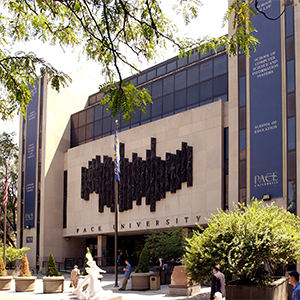 For more than 100 years, Pace University has excelled at preparing its diverse student body for a lifetime of professional success in a changing world. Pace is ranked in the top 9% of private US colleges that provide the best return on tuition investment by PayScale.
Founded in 1906 as a one-room accounting school, Pace University has grown into one of the largest universities in New York State, enrolling more than 13,600 students in bachelor's, master's, and doctoral programs in more than 175 majors and programs across business, health care, computer science, humanities, education, science, law, and the arts. As we continuously develop new ways to support students who want to come learn on campus, we are also expanding our online and hybrid offerings for remote learning.
At Pace, our curricula are relevant and responsive to the changing needs of our students. Through flexible, hybrid, and cutting-edge learning environments, our students are getting the quality education they want and the upskilling they need to be successful in the changing world. From degree programs to badges and certificates, Pace University provides all students—regardless of location—access to opportunity.
Get Started
Request
Information
To get started please select your program of choice from the dropdown menu. If you have any questions at any time, please contact us.