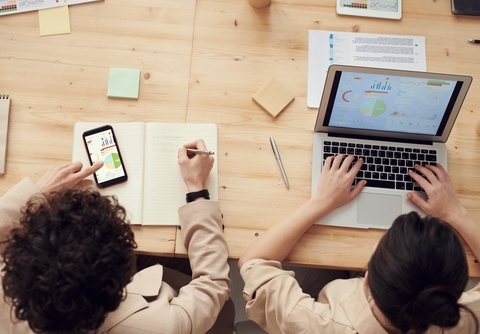 The prestigious MBA degree can lead to better jobs, more connections, and a higher salary. For this reason, the hype of an MBA comes from a very real place: many who obtain one find success in their chosen field.
The outlook for graduates of current MBA programs continues to be promising. According to the NACE Salary Survey, which features starting salary projections for the class of 2021, MBA graduates will earn an average salary of $75,461. The survey also shows that at the master's degree level, MBA graduates are second on the list of top majors in demand.
An MBA can be an obvious choice for business majors or those already working in business. But what about those in different industries? Many outside of the business world may be asking the following: Can I get an MBA without a business degree? The short answer is yes. This article will discuss the benefits of pursuing an MBA as a non-business major. We will also discuss some of the typical MBA admission requirements prospective students can expect to meet.
---
Benefits of an MBA
An MBA may lead to a salary increase. As stated in U.S. News & World Report, "Lifetime earnings statistics for MBA alumni demonstrate that people who obtain MBA degrees tend to earn significantly more money than their peers without those degrees." In addition, an MBA can lead to a more advanced role. Pursuing an MBA has benefits beyond the monetary results. Gaining business, leadership, and marketing knowledge is beneficial for many different career paths.
---
MBA Programs for Non-Business Majors
For those who have a bachelor's degree in business, an MBA is most likely an extension of their undergraduate learning. But for people who come from a different education background, an MBA may be an entryway into an entirely new skill set. For example, someone who works in healthcare will have learned patient-care skills in their undergraduate studies, but they wouldn't necessarily have learned the leadership or budgeting skills that may be required for management roles in their field.
MBA programs can also provide non-business majors with a specialized course of study. MBA programs that offer concentrations allow students to tailor their coursework to their industry of choice. For example, the Pace University online MBA program offers optional concentrations in Business, Corporate Finance, and Marketing Management.
Below are some industries where those with non-business undergraduate degrees could benefit from obtaining an MBA:
Engineering
Finance
Healthcare
Human resources
Marketing
Technology
---
Typical MBA Admission Requirements
Non-business majors may have concerns that their undergraduate background will hinder them from pursuing an MBA. For many MBA programs, this is not the case. Most MBA programs welcome a diverse student body, which includes accepting students with different education backgrounds. That said, incoming students who do not have a background in business may be expected to take some additional business courses once accepted into a program in order to bridge any knowledge gaps.
MBA admission requirements vary by program, but most include the following:
Academic transcripts
Resume
GMAT or GRE scores
Recommendation letters
Admission essay
If you have an undergraduate major other than business, you may want to focus your application around the ways your career has advanced. As stated in this U.S. News & World Report article, "MBA admissions officers generally like to see evidence of career progression in an MBA application, meaning that the applicant gradually took on more professional responsibility." If you are considering applying for an MBA, look for examples in your work and life experiences where you show career progression.
---
About the Pace University Online MBA and Lubin School of Business
The Pace University Online Master of Business Administration (MBA) gives professionals a hands-on learning experience to master the ins and outs of business theory through real world application. This 100% online program has been handcrafted by expert faculty to ensure that students are career-ready upon completion. Choose a Corporate Finance, Marketing Management, or general business concentration.
For over a century, Pace University's Lubin School of Business has been preparing professionals for fulfilling careers in business. From responsive professor communication to hands-on, project-based learning, we do everything we can to help students succeed.
Pace's Lubin School of Business has dual accreditation by the Association to Advance Collegiate Schools of Business (AACSB) International, an elite distinction shared by fewer than 2% of business schools in the world. With graduates thriving in companies like AIG, Nickelodeon, L'Oreal, Tesla, and many others, Pace equips students with vital business knowledge, while also creating innovative thinkers that companies want.
Get Started
Request
Information
To learn more about online Master of Business Administration, fill out the fields in this form to download a free brochure. If you have any questions at any time, please contact an admission advisor at (866) 864-2577.