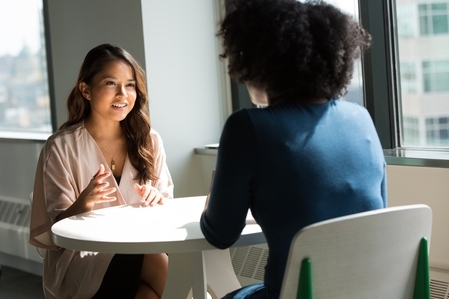 While an organization's marketing efforts often take the form of TV, film, and print advertising, many forms of marketing are more subtle. In fact, the article you're reading now is a form of marketing, since it aims to engage your interests and provide a benefit. The breadth of marketing types creates a wealth of opportunities for professionals to apply their talents as communicators and analytical thinkers. Learning about marketing strategies, trends, and concepts during a bachelor's program in business can equip you to thrive in the field.
If you are considering an undergraduate business degree, you may not know there are programs that allow you to pursue a specific concentration like marketing. In a Marketing BBA program, you can learn widely applicable principles in areas like accounting and finance while you get the skills to excel as a marketer.
Some job titles you can pursue by earning a bachelor's in business administration with a focus in marketing include:
Advertising account manager
Copywriter
Digital marketing analyst
Director of marketing
Market research analyst
Media planner
Public relations manager
Social media manager

Below, we'll discuss more details about the roles and responsibilities included in each job, as well as the median salary for each position.
---
Careers with a Marketing BBA
Job outlook is a vital consideration for anyone interested in earning a Bachelor of Business Administration in marketing. The US Bureau of Labor Statistics highlights that advertising, promotions, and marketing managers can expect a 6% increase in jobs between 2019 and 2029, which is faster than the average for all occupations. These managers earned a median salary of $135,900 in 2019.
Here are some marketing jobs you can go for with a robust background in business leadership:
Advertising Account Manager
An advertising account manager is typically the point of contact between a client and an advertising agency. Their duties are to discuss the client's goals, formulate an advertising strategy, and monitor the project's progress. As this is a sales role, these managers' responsibilities also involve generating new leads for advertising clients.
Copywriter
Copywriters create engaging content based on client or agency specifications while adhering to linguistic conventions and maintaining grammatical consistency. These writers produce an array of content types, including ads, website landing pages, blog posts, white papers, and social media posts. Clear, powerful language is especially vital since every piece of media could be a consumer's first exposure to a brand. Copywriters ensure their work conveys the company's mission, a product or service's benefits, and their advantages over competitors.
Market Research/Digital Marketing Analyst
Analysts examine data from sources like web analytics, polls, and surveys, and convey the information to the rest of the marketing department in an easily digestible and actionable manner. Some of the key metrics for market research include a website's click-through rate, indications of consumers' intention to buy a product, or brand awareness. Based on these findings, analysts may provide recommendations to the marketing team for targeting campaigns to certain demographics, pricing products, or increasing social media presence. Programmatic advertising—the automated use of computer software to buy digital ads—is increasingly integral to marketing strategies, but experts will always be necessary to interpret analytics findings and devise plans.
Marketing Director
As a senior-level role, marketing directors' duties include managing a team of writers, designers, and other personnel to guide marketing projects from the ideation stage through execution while constantly evaluating performance. A key responsibility for this position is monitoring data about consumer behavior and industry trends to build a strong campaign strategy. Marketing directors also must closely track expenses to ensure each project stays within budget.
Media Planner
Media planners create strategies based on their clients' specifications and objectives. This role requires a thorough knowledge of traditional and digital media types and how they can be employed to reach the desired demographics. By keeping an eye on the outcomes of their media plans, marketing professionals can apprise clients of the return on investment and any need for changes in future campaigns.
Public Relations Manager
These public relations leaders strategize and execute campaigns intended to develop an organization's reputation and cultivate positive media coverage. PR managers may draft press releases and other written materials, coordinate with other departments and freelancers, and serve as a media representative for their employer. Success in this role requires exceptional verbal and written communication, analytical skills, and an understanding of organizational behavior.
Social Media Manager
Social media managers promote an organization or brand on platforms like Twitter, Facebook, and Instagram. After creating and posting content, social media managers monitor and respond to comments and other interactions to ensure consistent brand messaging. As this is a management role, these professionals may supervise a team that includes brand influencers, community managers, and social media specialists.
---
Benefits of a Marketing BBA Program
Marketing is an ever-evolving field, with new techniques constantly emerging to study consumer behavior and create powerful campaigns. Organizations look for job candidates who have a nuanced understanding of marketing principles in theory and practice, with Marketing Week noting sharp growth in demand for skills like social media advertising, analytics, and web content writing.
Strategic, data-driven leadership is increasingly crucial to marketing, since successful campaigns in today's digital media landscape rely on precise analysis. In the February 2021 edition of the CMO Survey, marketing professionals reported that digital channels' contribution to company performance increased by an average of 32.7%. Most of the nearly 3,000 respondents noted that their organizations made new investments in functions such as website optimization, digital media, search, and direct digital marketing.
A business background can help you excel in this environment as an effective leader who sees how marketing contributes to an organization as a whole. Marketing professionals who collaborate with other departments to further their company's mission may discover more opportunities to implement well-informed strategies and advance their careers.
The benefits of an education that synthesizes marketing and management concepts include:
Developing versatile skills
Today's marketing roles require proficiency in tools like analytics platforms and social media listening applications as well as traditional qualifications such as strong communication and customer service. An analysis of job posting data from Burning Glass indicates that aptitude in digital marketing, budgeting, email campaigns, and project management can all lead to a salary premium.
Making professional connections
Internships are one of the foremost ways to build practical marketing experience while growing your professional network. During an internship, you'll work with established industry professionals while applying your classroom training to real-world situations. As a result, you'll have valuable work experience and new connections that could help you take the next steps in your career.
Gaining an advantage in the job market
Earning a bachelor's degree in business for marketing professionals demonstrates wide-ranging that encompasses areas like data analytics, organizational structures, and public relations. Employers are likely to find candidates with these skills highly appealing. For example, McKinley Marketing Partners' 2019 Marketing Hiring Trends Report noted that digital marketing skills are the most sought-after in the field, with 61% of employers seeking tech-minded candidates capable of leadership in analysis, customer experience, and automation.
---
Median Salaries for Marketing Careers
| | |
| --- | --- |
| Marketing Director | $89,192 per year |
| Public Relations Manager | $69,939 per year |
| Advertising Account Manager | $56,914 per year |
| Market Research Analyst | $54,567 per year |
| Copywriter | $52,833 per year |
| Social Media Manager | $51,433 per year |
Source: PayScale
For organizations to succeed in the fast-paced, rapidly changing world of marketing, they need leaders who see the possibilities that lie ahead and go get them. A bachelor's degree in business with a marketing and management concentration offers a diverse range of knowledge and skills that empower professionals to discover analytics insights, implement strategies that connect with audiences, and solve complex problems. When marketing managers understand how their work affects an entire organization, they can plan for the future and make decisions that drive long-term growth.
---
About the Pace University Online Bachelor of Business Administration in Business Studies with a Marketing and Management Concentration
The Marketing and Management concentration in the online BBA at Pace University teaches core principles like business law and strategy, along with courses in areas like organizational behavior and strategic Internet marketing. You can apply previous college credits and life experience to your marketing BBA degree, which reduces cost and time to completion. Students typically finish the online BBA in two to three years.
The Lubin School of Business at Pace University is dually accredited in business and accounting by the AACSB International, a distinction shared by fewer than 2% of institutions worldwide that ensures a high standard of instruction. Our faculty's substantial industry knowledge and connections mean that graduates enter the job market with a competitive edge. You'll join a global network of Pace alumni in 80 countries. We are committed to helping you achieve professional success by offering personalized career guidance and practical opportunities for internships, independent study, and research.
Get Started
Request
Information
To learn more about BBA in Business Studies, fill out the fields in this form to download a free brochure. If you have any questions at any time, please contact an admission advisor at (866) 815-5166.