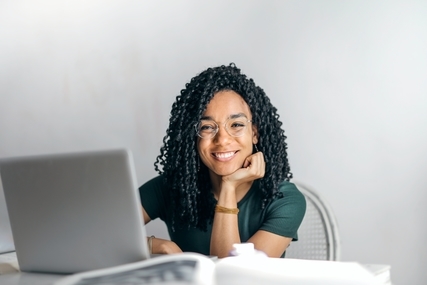 Regardless of your position or industry, the ability to communicate effectively and efficiently is among the top skills companies seek in their employees. Employers need professionals who can clearly express their thoughts and ideas and communicate with coworkers, including giving compelling presentations and crafting well-written emails. In a LinkedIn report, 92% of talent professionals noted that hiring for soft skills—including communication skills—is as or more important than hiring for hard skills. 89% also said that a gap in soft skills is what most often makes for a bad hire.
And for those in communication-centric positions, having this skillset is of crucial importance. While there are numerous directions you can go in the field, a master's in communications will help you build the skills required to be an excellent written and verbal communicator, and expose you to the latest tools and technologies.
---
Master's in Communications Careers
There are many career paths you can pursue with a communications master's degree, including in film, journalism, public relations, and social media. According to the U.S. Bureau of Labor Statistics, the master's in communications job outlook is in line with the average for all occupations, with 4% growth expected from 2019-2029. In terms of earnings, the Labor Insight tool from Burning Glass reports that the median master's in communications salary is $71,000. It's important to keep in mind that anticipated job growth and median salary varies widely by role.
A master's in communications can assist you in advancing in your current profession or switching careers, as well as increasing your earning potential. Beyond that, a graduate degree is useful in helping you strengthen your skills in important aspects of written and verbal communication, building your portfolio through relevant projects, and gaining valuable real-world experience.
Here, we provide an overview of some popular communications careers, including day-to-day tasks and median salary information for each role.
Public Relations Manager
Median salary: $112,453
A public relations (PR) manager serves the role of spokesperson for their company or client. They are in charge of both reputation management—influencing the public perception of a company—and crisis management, or working to minimize the damage when something unexpectedly goes wrong for a company. Common tasks for PR managers include media pitching and interviewing, composing press releases and other content, event planning and promotion, and social media management.
PR managers might handle these duties themselves or execute these tasks alongside content writers, designers, and social media managers. They typically work within or closely with a marketing department to coordinate efforts.
A master's degree can help prepare students for PR roles. The Pace University online MA in Communications and Digital Media features coursework in effective speaking and writing for organizations, media relations, and multi-platform communications. Students also have the opportunity to gain hands-on industry experience in the Pace student-run PR agency, PMZ.
Editor
Median salary: $71,477
Editors ensure that the highest quality content—including a strong, error-free message—is published for their company or clients. They review content produced by writers to make sure that it follows designated editorial style guidelines, which serve to keep content consistent across writers and mediums. Editors review content for voice, style, and tone. They also check facts and sources cited to make sure everything is accurate. And they typically proofread content, checking for grammar and spelling errors. With all that is involved, it's important that editors have a command over language and are very detail-oriented.
There are numerous places editors work, from book publishers to newspapers to marketing agencies. With experience and education, editors can advance to senior editor and content strategist positions.
Marketing Manager
Median salary: $107,697
Marketing managers lead marketing strategy for their clients, including planning, execution, and evaluation. This typically involves collaboration with a team of channel managers, including sales, research, operations, content, design, SEO, and digital media. They provide direction for deliverables and give their sign off before implementation.
Marketing managers are responsible for tracking the progress of their campaigns and making adjustments as needed to ensure desired return on investment and other goals are met. Additionally, they commonly manage entry-level marketing employees, including marketing coordinators and marketing and events specialists.
Along with marketing prowess, communication, leadership and project management skills are important for this position. With experience, marketing managers can progress to senior-level marketing manager roles, and, eventually, on to director and VP positions.
Social Media Marketing and Communications Manager
Median salary: $105,102
Social media managers oversee everything involving social media channels for their company or clients. They develop content calendars, consisting of both curated and created content. This helps them determine and plan ahead for any new assets that will be required, including content or design elements, as well as to appropriately plan for promotion of any launches or other newsworthy events occurring with the brand.
Individuals in this position are responsible for engaging with followers, including responding to positive comments as well as de-escalating any negative situations. They may create a community management response grid that maps out a plan of action based on the type of comment received. Another key piece of this role is social listening and monitoring overall brand and product sentiment, which helps inform shifts in strategy moving forward.
Social media managers report on key metrics and make recommendations to refine strategy and maximize efforts. For example, they track the topics that best resonate with their followers, along with what time of day and day of week is the best performing. Social media managers might also be responsible for running and monitoring paid advertisements.
Because social media is constantly changing and evolving, individuals in this role are expected to keep up with the latest trends and platform launches. They also must have excellent communication and writing skills.
Video Producer
Median salary: $54,801
Video producers manage all elements required to create videos for their clients, including the pre-production, production, and post-production stages.
Pre-production includes script writing, hiring talent, and selecting and booking a location. Video producers work closely with their client to make sure that they understand the key message the client would like to get across in the video, as well as their overall goals for the video and how it will be utilized.
During production, the producer oversees filming and talent. They must make sure that they capture all scenes needed for the video. Then, in post-production, the producer edits the footage and adds effects and music, or collaborates with an editor to do so.
In addition to creativity and project management skills, video producers must have great communication skills, coordinating with both their clients and their internal teams.
Video Editor
Median salary: $38,130
A video editor's role is to take raw footage and turn it into a polished finished product. They may work on commercials, corporate training videos, films, and more on a freelance or full-time basis.
Video editors use editing software like Final Cut Pro or Adobe Premiere Pro. They cut, rearrange, and splice footage, as well as add graphics, music, special effects, and more. Video editors ensure that the final video meets the client's vision.
To be successful in this job, along with being technically skilled, video editors must also have creative talent. They need to be adept at storytelling and developing a powerful message that will appeal to the intended audience. Additionally, they must also stay up-to-date with the latest trends and technologies.
*Salary information listed for the above positions was compiled from salary.com.
About the Online MA in Communications and Digital Media at Pace University
The Pace University online Master of Arts in Communications and Digital Media prepares professionals for careers in the industry by helping them build excellent communications skills through engaging projects. The program includes coursework in editing, videography, production, public relations, advertising, and media writing. Choose an optional concentration in Digital Filmmaking and Media Production or Social Media and Public Relations, or create your own path by selecting courses from both areas. You'll also have the choice to complete either an internship or thesis.
Get Started
Request
Information
To learn more about online Master of Arts in Communications and Digital Media program, fill out the fields in this form to download a free brochure. If you have any questions at any time, please contact an admission advisor at (866) 853-4658.