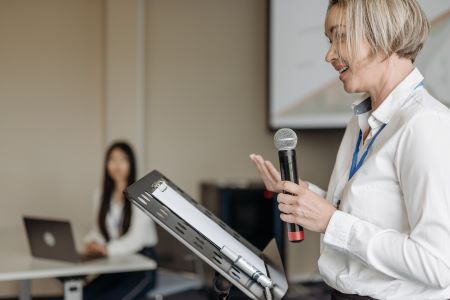 Whether you are speaking to employees, clients, or future investors, it's important to feel comfortable presenting in public. That said, it might not feel easy.
According to the National Social Anxiety Center, 40% of the population experience glossophobia–or fear of speaking in public–and many more may experience a level of discomfort with speaking in front of a crowd. Still, it's an important skill to have if you want to move up in your career.
"Being an effective communicator is critical to a successful career in any industry," said Corinna Sager, a professor who teaches "Effective Speaking For Industry Professionals" in the online MA in Communications and Digital Media program at Pace University.
Public speaking is a skill that takes practice. There are many elements of a presentation to consider beyond the speech itself: What to wear, when to ask questions, and what visual aids to include will each affect your audience's experience.
Read on to learn how to become a better communicator and presenter, and improve your communication skills for business. This article touches on the following:
How to tailor your message to your audience
How to utilize visuals to enhance your message
How to practice for a presentation
How to effectively communicate in a remote environment
---
Tailor Your Message
There's a reason why we can't help but binge-watch a good show or why we hang on every word of someone discussing a bad date: a good story is compelling. According to The Muse, "When you tell a story, something happens to your audience members. Activity lights up in their brains as if they were experiencing the story for themselves."
One key to effective presenting is figuring out how to tell your story in a way that will interest your unique audience. Some ways to tailor your presentation to your audience include understanding what motivates them, preparing multiple approaches to the topic, and researching the background of your listeners in order to better relate to them, according to Forbes.
As stated in the Forbes article, "If you want to have a successful presentation or pitch, you need to know who you are talking to. This is always going to be one of the most important factors for a successful session. Take the time to study prior event attendance, feedback, demographics and why they enjoyed some speakers over others."
Tips to consider:
Do your homework and learn who your audience is
Ask your audience questions before or during the presentation
Prepare to speak off the cuff and to speak about multiple topics
Utilize Visuals
Cognitive scientists have found that 65% of the general population are visual learners, which means they need to see information in order to retain it. In addition, people retain 80% of what they see versus 10% of what they hear.
With that in mind, adding visual elements to your presentation is an ideal way to reach a majority of your audience. Look for compelling images that help you tell your story. However, the images should support your presentation, not overwhelm it, so keep your visual elements simple.
In addition, keep copy in your presentation to a minimum. The copy you do choose to add should reinforce your key points.
Tips to consider:
Most of the population are visual learners
The visuals you decide to use should enhance your presentation
Consider short, bold headlines and compelling images
Practice Presenting
Your teachers and parents were right: practice makes perfect. One way to improve your public speaking and presentation skills is through feedback. This can be as casual as having friends sit for a practice presentation or more formal through workshops or courses such as "Effective Speaking For Industry Professionals," which is part of the online MA in Communications and Digital Media at Pace.
"We cannot learn how we come across, how our message reaches another person without receiving honest feedback," said Sager. "However, in the real world that is extremely rare–so one of my key elements in helping students become better speakers is giving that honest feedback they will not get in real life."
It is also important to consider other elements, such as how you are going to keep your audience engaged. One way is through individual eye contact.
As stated in this article on Inc., "When you fail to make eye contact with your listeners, you look less authoritative, less believable, and less confident." In turn, when you do make individual eye contact with audience members, you have an air of authority and confidence.
Tips to consider:
Practice your material so you know it well
Be conscious of how you plan to engage with your audience
Consider a course in public speaking
Have a plan with a list of points
Engage Remotely
In terms of presenting remotely, it's clear that there are new rules at play. "One of the key differences in remote communications is that we never see the entire person, therefore the body language cues humans are instinctively attuned to are not visible," said Sager. "We can only rely on facial cues and words–and both can be very much manipulated and controlled. It also means when we communicate, we need to realize that our own facial expressions carry extra weight."
Another factor to consider is what your environment looks like on screen. "It's important to be very aware of one's surroundings and look as professional as possible," said Sager. "Looking professional applies to our appearance too. A disheveled or unkempt look doesn't convey professionality or caring in most business environments."
Tips to consider:
Survey your environment and keep it clean and professional. Close closet doors and if possible, keep other members of your household out of eyesight during presentations
Dress professionally as you would for an in-person meeting
---
About the Online MA in Communications and Digital Media at Pace University
The Pace University online Master of Arts in Communications and Digital Media prepares professionals for careers in the industry by helping them build excellent communications skills through engaging projects. The program includes coursework in editing, videography, production, public relations, advertising, and media writing. Choose an optional concentration in Digital Filmmaking and Media Production or Social Media and Public Relations, or create your own path by selecting courses from both areas. You'll also have the choice to complete either an internship or thesis.
Get Started
Request
Information
To learn more about online Master of Arts in Communications and Digital Media program, fill out the fields in this form to download a free brochure. If you have any questions at any time, please contact an admission advisor at (866) 853-4658.