Master's in Higher Education Administration and Student Affairs vs Master's in Educational Leadership: What's the Difference?
8 November, 2021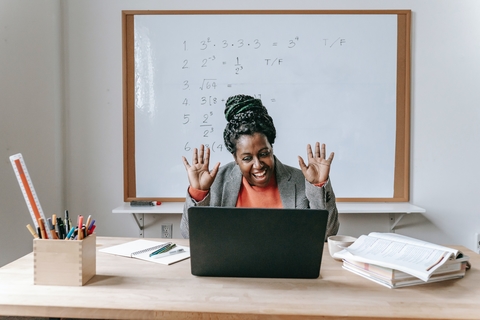 Careers in higher education leadership offer a variety of fulfilling roles in areas such as admissions, advising, student engagement, career services, and faculty support. In addition to essential administrative tasks like creating budgets and managing staff, professionals in this field take charge of initiatives that build stronger communities at universities and colleges. For example, administrators and student affairs professionals may be involved in establishing on-campus employment programs, encouraging interdisciplinary faculty collaboration, or finding ways to increase retention and graduation rates.
Earning a graduate degree focused on the latest research and best practices in education policy helps to develop strategies that make an impact on an institution. A master's in higher education administration and student affairs (HEASA) or a master's in educational leadership could help you achieve your career goals while expanding access to opportunities and improving outcomes for students.
---
Master's in HEASA vs. Educational Leadership
These two degrees involve many similar areas of study, but there are also differences between them that could determine which is a better fit for your career goals. Here are some key factors to consider:
Master's in Higher Education Administration and Student Affairs Overview
An MA in HEASA equips professionals with the knowledge to build a career in developing and implementing university policies. An HEASA program examines the organizational decisions that promote operational efficiency while maximizing student engagement. You can discover strategic approaches to support underrepresented populations based on a critical analysis of the social forces affecting academic success.
In addition, this program focuses on valuable skills in areas like:
Higher education administration best practices
Student development
Enrollment management
Student engagement
Institutional research
Master's in Educational Leadership Overview
A Master's in Educational Leadership prepares current or aspiring education professionals to lead in any academic setting, including primary, secondary, or postsecondary institutions. Educational leadership programs may offer concentrations or specializations such as:
Pre-K administration
Early childhood education
Learning and instructional design
Learning technology
International education
Higher education
Choosing the Right Curriculum
Students in HEASA and Educational Leadership programs both take courses that cover a wide range of important topics affecting educational institutions:
Assessment and evaluation
Finance and budgeting
Ethical decision making
Organizational and operational strategy
Policy-making
Regulatory compliance
Research methodology

However, since a master's degree in HEASA focuses solely on higher education, the curriculum may delve deeper into research and trends that are mainly applicable to roles at colleges and universities, like:
The history of higher education
The impact of technology on higher education teaching and administration
Student development theory and best practices
Increasing enrollment and retention
Finance and budgeting for postsecondary institutions
Welcoming and supporting diverse groups of students
Using program evaluation and assessment tools to drive improvements

An HEASA offers student affairs-focused education, exploring the theoretical concepts and practical methods that go into driving enrollments and supporting the needs of a diverse community. The National Association of Student Personnel Administrators has established competency areas that shape the course offerings for student affairs professionals. These standards encompass:
Personal and ethical foundations
Values, philosophy, and history
Assessment, evaluation and research
Law, policy, and governance
Organizational and human resources
Leadership
Social justice and inclusion
Student learning and development
Technology
Advising and supporting
Hands-On Learning Opportunities
A master's in HEASA or educational leadership is a professional degree program that features practical exercises in applying concepts to real-world situations. By taking courses on a part-time basis while working, you can immediately apply the skills you learn to real situations.
If you're currently employed in an educational environment, you might even be able to use your own workplace as the focus for a research project. Those who work in other fields may still be able to gain hands-on experience by connecting with a local school.
---
Career Outcomes and Salary
These master's degrees each prepare graduates to succeed in leadership roles. Master's in higher education administration and student affairs careers are specific to postsecondary education environments with an emphasis on providing support for students. Professionals with a master's in HEASA could be qualified for positions such as:
Admissions Director
Career Services Director
Chief Academic Officer
Director of Academic Advising
Director of Alumni Relations
Director of Assessment and Accreditation
Director of Student Affairs
Diversity Manager
Financial Aid Director
High School College Counselor
Nonprofit Executive
Provost
Resident Life Coordinator
Training and Development Manager
University Registrar

Master's in educational leadership careers have the potential to lead to a broad range of positions in primary and secondary environments. Some possible titles include:
Assistant Principal
Curriculum Designer
Pedagogy and Curriculum Support Staff
District Administrator
District Superintendent
Principal

According to the U.S. Bureau of Labor Statistics (BLS), the median pay in 2020 for postsecondary education administrators was $97,500. Education administrators working in kindergarten through secondary school settings earned a median salary of $98,490. A graduate degree is a qualification for some administrative leadership roles that can increase salary potential.
To make the most of opportunities for administrative leadership and supporting student success, leaders must understand the impact of academic structures and policies. In the Master of Arts in Higher Education Administration and Student Affairs from Pace University, students prepare to succeed in a complex, rapidly changing landscape for colleges and universities. The specialized skills that come from a program focused solely on the issues affecting higher education help administrators make the greatest possible difference in the lives of diverse student populations.
---
About the Pace University MA in HEASA
Pace University's 100% online Master of Arts in Higher Education Administration and Student Affairs program provides an overview of the challenges facing university leadership teams. MA HEASA students develop critical thinking and research skills to help them understand how institutional structures, policies, and practices impact students from varying socioeconomic and cultural backgrounds throughout their academic journey.
The future-focused, NASPA-aligned curriculum is taught by administrative experts and designed to address contemporary issues in higher education and student affairs. Graduates are prepared to take charge of assessment and evaluation, meet performance objectives, and effectively run programs.
---
Request Information
To learn more about MA in Higher Education Administration and Student Affairs, fill out the fields in this form to download a free brochure. If you have any questions at any time, please contact an admission advisor at (866) 843-7201.