When you start considering the amount of media and other information that we transmit, store and use daily, the volume becomes mind-boggling. And, as the amount of digital data grows at an incredible pace, so do the ways that it can be stolen or disrupted. In fact, in just three months in 2018, 765 million people were affected by cyberattacks. Dealing with cyberattacks effectively requires a look at both preventative measures (cybersecurity) to stop attacks and investigative techniques (computer forensics) to uncover what happened once an attack occurs.
---
Two Sides of the Cybersecurity Career Spectrum
The proactive and preventative side of cybersecurity covers all the measures organizations take to stop a breach from happening; this includes firewalls, antivirus and all the other tools used to stop breaches from happening. Cybersecurity careers within this domain can include roles such as penetration tester, who is responsible for evaluating systems for vulnerabilities. IT support specialists can also play a role on the preventative side, since they may be responsible for setting up users' equipment and helping them configure software properly.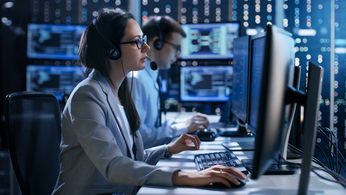 The other side is responsive, or what happens when a cyberattack does occur. This side of the coin, often called computer forensics, focuses on analyzing compromised data and reporting on it in a way that is admissible as evidence. Professionals in this industry may study data breaches to identify gaps in preventative measures, as well as create new policies and procedures for responding to future incidents.
While cybersecurity and computer forensics are highly dynamic and present new challenges every day, they are disciplines with especially high demand. Furthermore, getting into the cybersecurity field and earning a highly competitive salary is feasible with just a bachelor's degree.
---
Computer Forensics and Cybersecurity Careers
As trends like the Internet of Things (IoT) have grown, so has demand for cybersecurity and forensics professionals. Entry-level cybersecurity jobs range from security analysis to system administration, and these positions can often be the beginning of the career path for senior IT or technology executive roles.
Another important consideration is that there is often overlap in responsibilities between different roles. For example, a system administrator may set policies and deploy software across the organization, but when antivirus or other software exhibits problems on a user's computer, a support specialist is often the first point of contact for troubleshooting. Many of these jobs can serve as starting point for professionals interested in more advanced careers in either cybersecurity or computer forensics.
Forensics and Cybersecurity Job Titles
Responsibilities
Penetration Tester

Tests existing security systems to identify vulnerabilities
No certification required, though some companies may prefer it

System Administrator

Employed by companies with multi-user computing environments
Monitors servers, creates new accounts, and maintains business accounts
May work with a local area network or with dispersed users

Computer Support Specialist

May be remote, over the phone, or in person as a dedicated specialist for an office or company
Good way to establish professional experience at an entry-level position

Forensic Computer Analyst

Recovers information from computers and storage devices to aid law enforcement
Evaluates information and its relevance to a given case
Expertise in hacking and techniques that will allow them to gain access to systems

Cybersecurity Analyst

Plans, implements and monitors security systems to protect computers and networks
Ensures the proper security protocols are followed
Responds to security breaches
---
Cybersecurity Job Descriptions and Salaries
Penetration Tester
Penetration testers are hired to probe security systems to find and exploit weaknesses. While a security certification may be preferred by some companies, the skills that are most important in this position are computer programming experience, written communication, attention to detail and analytical skills. Penetration testers must be able to not only find the vulnerabilities in a system but communicate how they found them and potentially how to address the weaknesses they discover.
"Ethical hacking" is a related cybersecurity job that penetration testing can lead to. In conjunction with intrusion software, ethical hackers can act as a part of a large team to help resolve cyberattacks.
The Bureau of Labor Statistics has only recently begun tracking cybersecurity careers in more specific categories, and currently classifies penetration testers with security analysts, who are expected to see an 18% growth rate through 2024, with a median annual salary of roughly $95k.
System Administrator
Large corporations may have a team, while startups or small businesses may only have a single admin, but most companies with multi-user computing environments employ at least one system administrator to oversee, maintain and manage the organization's networks.
System admins are responsible for the functioning of servers, setting up user accounts and maintaining business accounts. They may also oversee network performance and troubleshoot issues as they are reported.
Network and computer systems administrators are expected to see a growth rate of 6% from 2016 to 2026, which is the national average. The median salary for a system administrator is currently roughly $81k per year.
Computer Support Specialist
This position can vary greatly, from being a dedicated IT specialist who solves technology issues for employees and businesses, to fielding customer calls. This position requires communication, problem solving, and the ability to adapt to ever-changing circumstances. As an entry-level position, this is a good place to establish your professional experience, while learning the ins and outs of systems and what vulnerabilities come along with them.
With a projected job growth of 11% through 2026, computer support specialists are in high demand. The median annual salary is roughly $53k per year.
Forensic Computer Analyst
Forensic analysts focus on retrieving information, which often takes the form of evidence for law enforcement. They use a combination of computer science and investigative skills to recover data that has been deleted or warped, as well as to determine whether a system has been tampered with in more subtle ways.
For example, some of the biggest data breaches in history are the result of incidents that continued over a lengthy period of time. In the Marriott International data breach, announced in 2018, cybercriminals first got into systems containing customer information in 2014, but the incident was not detected for four years.
Earning potential for this role is highly dependent on experience, with late-career forensic computer analysts earning roughly 55% more than the median ($71k). While computer security and forensics are primary skills for this career, having knowledge of data analysis is also linked with higher earning potential. Forensic analysts often deal with high volumes of sensitive information as well as computer and network logs, which must be analyzed to retrace what occurred in a cybersecurity incident.
Cybersecurity Analyst
The role of cybersecurity analyst can be both preventative and reactive. Because they monitor systems for active threats, cybersecurity analysts are responsible for communicating relevant security information to different stakeholders. However, they also often play a key role in responding to an incident, such as by working with forensic analysts to address vulnerabilities that have been identified.
The median salary for cybersecurity analysts is $76k, and there is a wide range of skills linked to higher earning potential — including security auditing, computer security, network management, intrusion detection and risk management. As a result, there are many opportunities for working in different environments and with different systems. In fact, larger companies are likely to have more specialized roles that fall under the cybersecurity analyst umbrella, such as network security or computer security analyst.
---
About the B.S. in Professional Technology Studies at Pace University
At Pace University, there are multiple paths for pursuing a bachelor's degree in technology studies. Both concentrations, Business Technology Leadership and Computer Forensics, share a core curriculum in the foundations of internet technology, telecommunications, business and industry-specific classes, and even workplace ethics courses. However, these paths differ in their career-focused coursework.
The business technology leadership focus allows students to learn how to assess, design and implement technology solutions for organizations that range from government agencies to businesses and nonprofits. The career-focused classes for this track of study include project management, business courses, and high-level electives in either business or technology.
The computer forensics concentration offers a comprehensive education in the acquisition and analysis of digital evidence through courses focused on cyber law, public policy, and cyber terrorism. With this degree, students learn to design cybercrime solutions, analyze systems for digital evidence, and help to develop defensive measures to anticipate future attacks.
Both entry-level and mature cybersecurity careers will continue to benefit from considerable growth, especially as business technology trends push the complexity of IT environments even further. For example, as businesses experience increasing pressure to move to entirely cloud-based systems —an estimated $3.5 million is expected to be invested in cloud computing within the upcoming year — there will be an increase in demand for professionals with both the broad business knowledge and technological savvy to protect complex, distributed and interconnected systems.
Get Started
Request
Information
To learn more about BS in Professional Technology Studies, fill out the fields in this form to download a free brochure. If you have any questions at any time, please contact an admission advisor at (866) 815-5166.