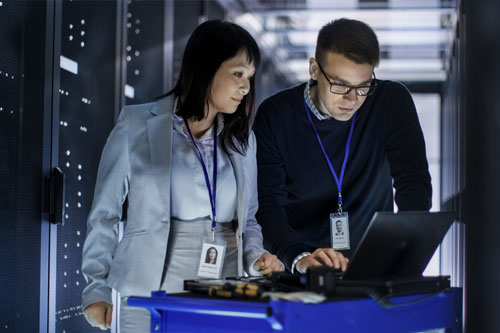 As one of only a few National Centers of Academic Excellence in Cyber Defense Education in the nation, the Seidenberg School of Computer Science and Information Systems prepares highly sought-after technology professionals with a strong, broad-based knowledge of information technology (IT) to advance their careers and to fill high-paying jobs across sectors—private companies, non-profit organizations, and law enforcement and government agencies.
With a greater career focus than a BSIT degree, the 100% online Bachelor of Science in Professional Technology Studies pairs practical theory with current, real-world problem-solving strategies that our dedicated faculty have first-hand experience applying in the workplace. The highly-qualified and dedicated faculty include cyber forensic investigators, expert witnesses in U.S. Federal Court, business technology owners, and telecommunications experts who are all adept at teaching in the online environment.
Our curriculum is continually developed to meet the standards set forth by the National Security Agency and the Department of Homeland Security. Benefit from the University's close connections to these and other agencies, study global networking technologies and gain hands-on experience working in virtual labs.
Benefit from our generous transfer policy as well as the opportunity to apply life/work experience for college credit and choose between a concentration in Business Technology Leadership or Computer Forensics:
Business Technology Leadership concentration
Become a valuable, confident and effective business technology leader who is adept at aligning technical projects with strategic objectives and communicating with employees at all levels of an organization.
Computer Forensics concentration
Gain qualifications to become a highly sought-after computer forensics professional who has a working knowledge of the criminal justice system, cybercrime, and the best protection and defense practices used in cybersecurity industries.
Click here to request a brochure