From creating user-friendly business analytics applications to developing the next generation of artificial intelligence, data science powers innovations that transform entire industries. The online Master of Science in Data Science from the Seidenberg School of Computer Science and Information Systems at Pace University equips professionals with the skills they need to excel in this rapidly growing field.
By completing this STEM-designated graduate degree from a pioneering school of computer science, you'll gain the advanced technical knowledge and hands-on experience you need to solve problems through analysis, visualization, machine learning, and automation. Our flexible program allows you to choose a part- or full-time schedule as you learn from our exceptional faculty of educators and researchers.
In-Demand Skills for Data-Driven Organizations
The STEM-designated master's in data science curriculum can expand your knowledge of effective data governance and prepare you to apply industry-standard tools. Our courses are led by Seidenberg faculty, including practitioners with backgrounds in the private sector and researchers who actively push the boundaries of the field. You'll gain practical understanding of how to apply the theoretical concepts and best practices that have become vital to daily operations as well as long-term strategic planning for organizations.
Students in the data science master's program build the skills to:
Use programming languages such as Python, R, and SQL
Implement tools including Spark, Hadoop, MapReduce, Matlab, and Weka
Work with machine learning algorithms
Discover strategic insights through data mining and predictive analytics
Deploy automations for managing data efficiently and ethically
Clean and structure data for a variety of applications
A Career-Focused Data Science Degree With Online Convenience
Seidenberg has offered fully online education since 1999, and Pace ranks among the best universities in the US for enabling upward economic mobility. We applied our decades of expertise in distance learning to design a 100% online master's degree in data science that's ideal for working professionals.
The MS in Data Science features a flexible combination of asynchronous activities and live interactive sessions. You'll have opportunities to connect and collaborate with professors, peers, and industry experts. Online students benefit from access to the largest career services department in the New York City metropolitan area as well as Pace's international alumni network.
Customize Your Path to an MS in Data Science
Our data science graduate program provides options that allow you to focus on the concepts and tools that are most relevant to your career. Choose from several electives in computer science as well as information systems, business analytics, and natural sciences. During the Analytics Capstone, you'll gain hands-on experience in addressing a real-world challenge by conducting quantitative research and identifying solutions. You can finish the program in two years by taking courses part-time or opt for a full-time schedule, completing the program in just over one year.
About the Seidenberg School of Computer Science and Information Systems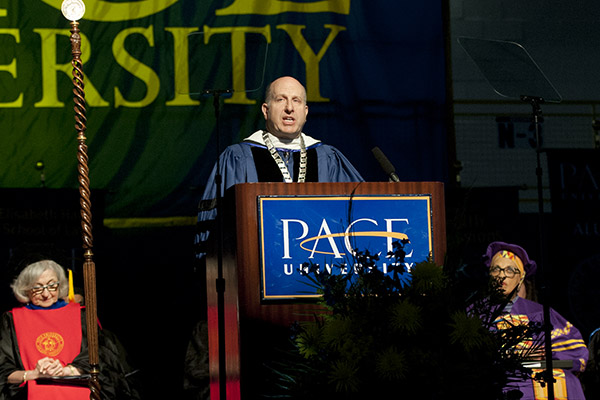 Founded in 1983, the Seidenberg School at Pace University is one of the nation's first dedicated schools of computer science and information systems. It is named in honor of Ivan G. Seidenberg, former chairman and CEO of Verizon Communications, who supported the School with the largest single gift in Pace's history.
Education that blends theoretical and practical knowledge to develop strong problem-solving abilities is central to the School's philosophy and mission. By teaching both the how and the why, we help our students stand out in the field and flourish in their careers. This approach is why Seidenberg School alumni are in high demand by corporate recruiters and successful start-ups.
The School is a national leader in cybersecurity education, designated by the National Security Agency (NSA) and the Department of Homeland Security (DHS) as a National Center of Academic Excellence in Cyber Defense Education (CAE-CDE). Our courses in the field adhere to the NSA's rigorous set of standards, which employers at organizations across industries recognize as a benchmark for excellence, and our graduates enjoy exciting careers at agencies including the U.S. Department of Homeland Security, the FBI, and the New York Police Department.
About Pace University
For more than 100 years, Pace University has excelled at preparing its diverse student body for a lifetime of professional success in a changing world. Pace is ranked the #1 private, four-year college in the nation for upward economic mobility by Harvard University's Opportunity Insights, evidence of the transformative education the University provides.
Founded in 1906 as a one-room accounting school, Pace University has grown into one of the largest universities in New York State, enrolling more than 13,600 students in bachelor's, master's, and doctoral programs in more than 175 majors and programs across business, health care, computer science, humanities, education, science, law, and the arts. As we continuously develop new ways to support students who want to come learn on campus, we are also expanding our online and hybrid offerings for remote learning.
At Pace, our curricula are relevant and responsive to the changing needs of our students. Through flexible, hybrid, and cutting-edge learning environments, our students are getting the quality education they want and the upskilling they need to be successful in the changing world. From degree programs to badges and certificates, Pace University provides all students—regardless of location—access to opportunity.